Czech Academy
If you want to learn Czech effectively, you need these two things: a system and a companion. You can find both here: a system, that fits into your busy schedule and a companion, that keeps an eye on your goal. Your learning progress is my priority, but just as important to me is a relaxed learning atmosphere in which you and I feel comfortable.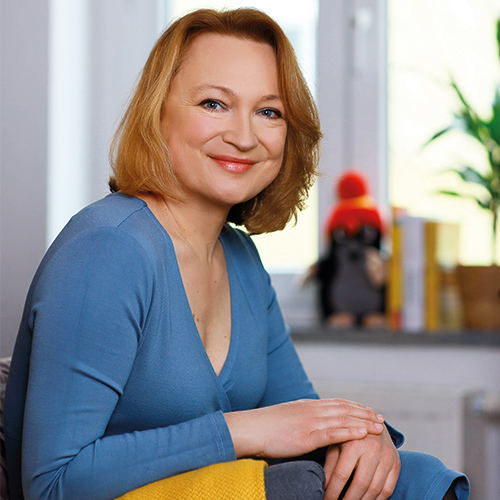 Czech lecturer and founder of the Czech Academy. I have been helping students to learn Czech and become Czech enthusiasts for 20 years. I have learned several languages ​​myself, so I know what it feels like to be the only mother at the Christmas party who only lip-syncs the Christmas Carols.
My husband is German. When I first met my future parents-in-law, the only word I knew was "schön". It stayed the only word in my vocabulary for quite some time. When we, some years later, moved from England to Dresden, Germany, I did not want to be speechless anymore. I have registered for an intensive course at the local University. I needed a system and someone who knew where I was heading. And it worked. I´d made fast progress.
Are you tired of being speechless too?
Your personal coaching program
Czech with a click
Do you like the Czech language, people, and culture? Would you like to communicate with your Czech partner, friends, or family, travel to Prague, or connect with your Czech roots? Are you at the same time unsure where to start? Have you got a very busy schedule? Do you struggle to find time to study?
Well, a lot of my students have got the very same problems. That is why I have developed a system that will help you to learn to speak Czech, enjoy the process, and fit into your busy life at the same time.
How does the system work?
The first call
After you had filled in the contact form, I am going to give you a call. During our first call, I would especially like to hear from you what your goal and your motivation to learn are. We will see what you already know and how much time you would like to invest each week. This enables me to get a first impression of you and later present you with a personalized learning plan.
The first study plan and the trial lesson
After our first interview, I am going to send you your first trial study plan, with which you will work independently step by step over the next 2 weeks. This is followed by the trial lesson - 30 minutes of intensive communication in which you can apply everything you have learned in practice. We are going to speak. The first study plan and the trial lesson are
The study plan and the Zoom conference
After the trial lesson, we both decide whether we want to work together. If that's the case, you're good to go. Together we will choose a textbook that best suits your goals and your level. Every 2 weeks you will receive your study plan and a 30-minute consultation on Zoom, in which we mainly focus on communicating and applying what we have learned.
Which additional resources are we going to use?
We are going to use WhatsApp to exchange voice messages so that you can actively use Czech between Zoom conferences. We use Quizlet - a vocabulary trainer that helps you to practice and repeat vocabulary at any time. We use countless other videos, audio texts, interactive online quizzes, Czech news, and pronunciation exercises.
What do I have to do?
In the beginning, you determine how much time you want to spend with study every week. Since the program is largely based on self-study, a certain amount of self-discipline is also necessary.
What costs should I expect?
The coaching program Czech with One Click costs 80 euros per month and can be canceled every month.
Experience
What do my students say
Dear Dagmar, I always look forward to our Zoom calls. We always have a lot of fun together. Even with self-study, it works better and better! Every time I visit the Czech Republic, I notice that I can understand more and react faster. That was one of my goals! Děkuju moc 🌞

Lessons with Dagmar are always a lot of fun and motivating. She organizes the lessons flexibly and has an excellent instinct for responding to me and providing the help I need. Thanks to Dagmar, I've made great progress in a short time and can now communicate better and more easily. Her creative pronunciation exercises are particularly legendary and they also provide interesting information from the Czech Republic.